Gevi 4 in 1 Smart Pour over Coffee Machine Review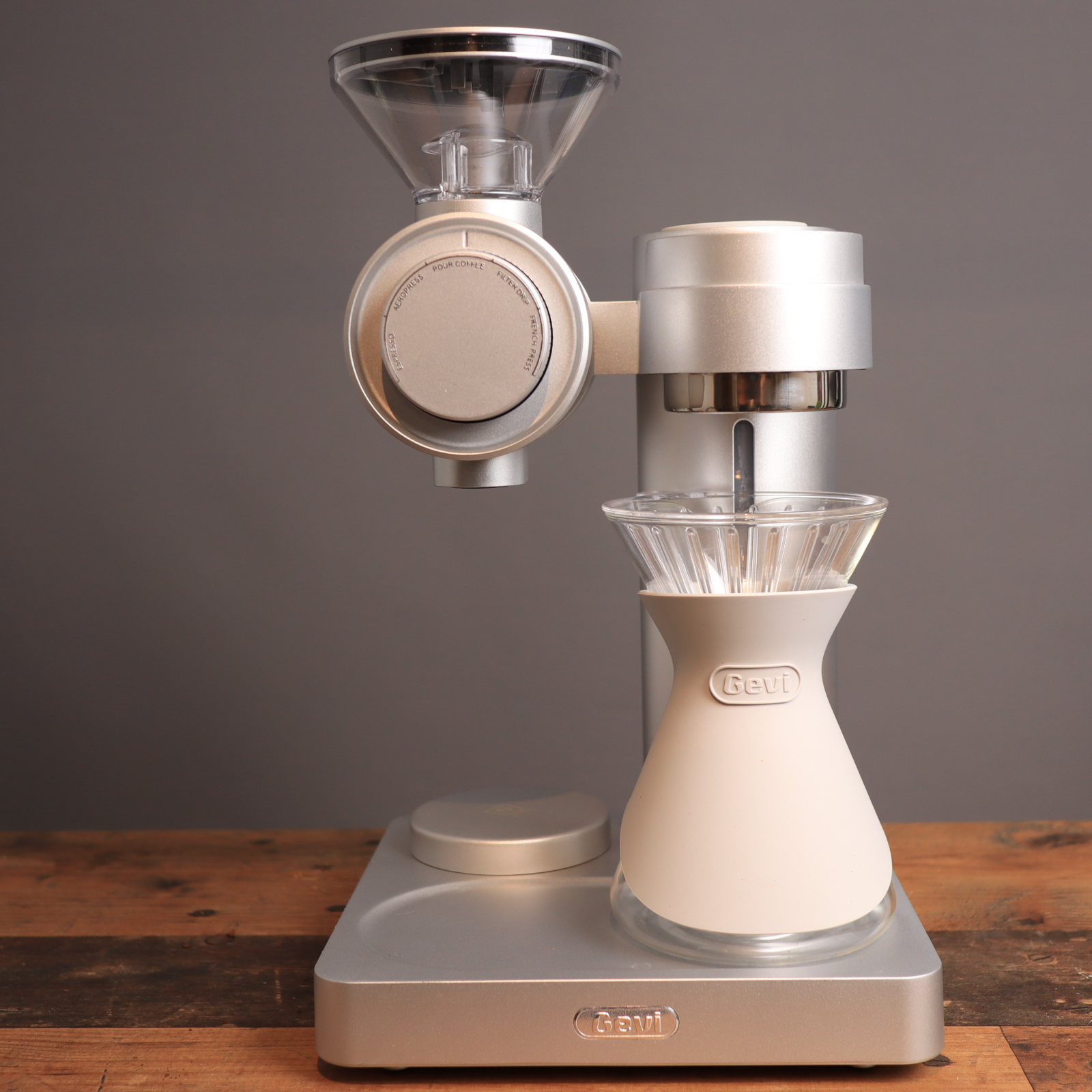 Futuristic, modern, organic, minimalistic. These are adjectives I have heard people use to describe the inspired design of the Gevi 4 in 1 coffee machine. It's called the 4 in 1 because it comes with a grinder, scale, water kettle, and brew unit. Let's take a deeper look at this unique, all in one coffee machine.
For all who don't know, Gevi is a company based in China, and has been selling a large array of espresso and coffee gear in the budget segment. Just check Amazon, and you will see they have already had a lot of success selling their machines. But with the 4 in 1, they aim to raise the bar, to satisfy those looking for a modern design, as well as those who want complete control over their brew process.
The Looks and Features of the 4 in 1
When looking at the Gevi 4 in 1 for the first time, most people cannot help but to grin. The use of anodized aluminum throughout the design invites one to touch the surface. The rounded off, geometric shapes lean towards the organic, something which is appealing to most people who viewed the machine. The base is made of a heavier, die cast aluminum block, to which the stainless steel lined water kettle extends upwards. Mounted to the top of the water kettle is first off the brew unit with the 3 rotating nozzles, and above the brew unit sits the HMI display screen. Next to the water column, extending to the left is another cylinder, this time housing the grinder motor, auger, and burrs. Finally, sitting on the back left of the Gevi is the integrated scale with dosing dish. All in all, this is a very well proportioned design, with all parts matching in the natural, anodized aluminum. Think about the look and feel of a Macbook Air.
Safety Features
I would be remiss to forget mentioning the two safety sensors on this machine: one located under the bean hopper, and the other located on the burr chamber collar. I am always happy to see that a manufacturer has thought about safety, because it's important. If the bean hopper or collar are not installed, the grinder will refuse to turn. Kudos to Gevi for thinking of this.
HMI and Operation
From a standpoint of hardware, the HMI panel is great; it boasts nice colors, a good resolution, and excellent viewing angles. Even switching between screens is pretty snappy, pointing to a well suited processor choice.
When first approaching the panel, one is met with several options: grinding, pour over coffee, scale, water kettle, and descaling. Grinding can be done independently of making a pour over coffee, if for example you want to use the grounds for your Aeropress, or some other brew method. The scale can also be used independently, which is a nice feature.
When choosing pour over coffee, one is led through several choices. You can choose a pre-installed recipe, or program your own recipe, or even create a recipe on the fly, while the machine is brewing. Check the YouTube video for an example of operation.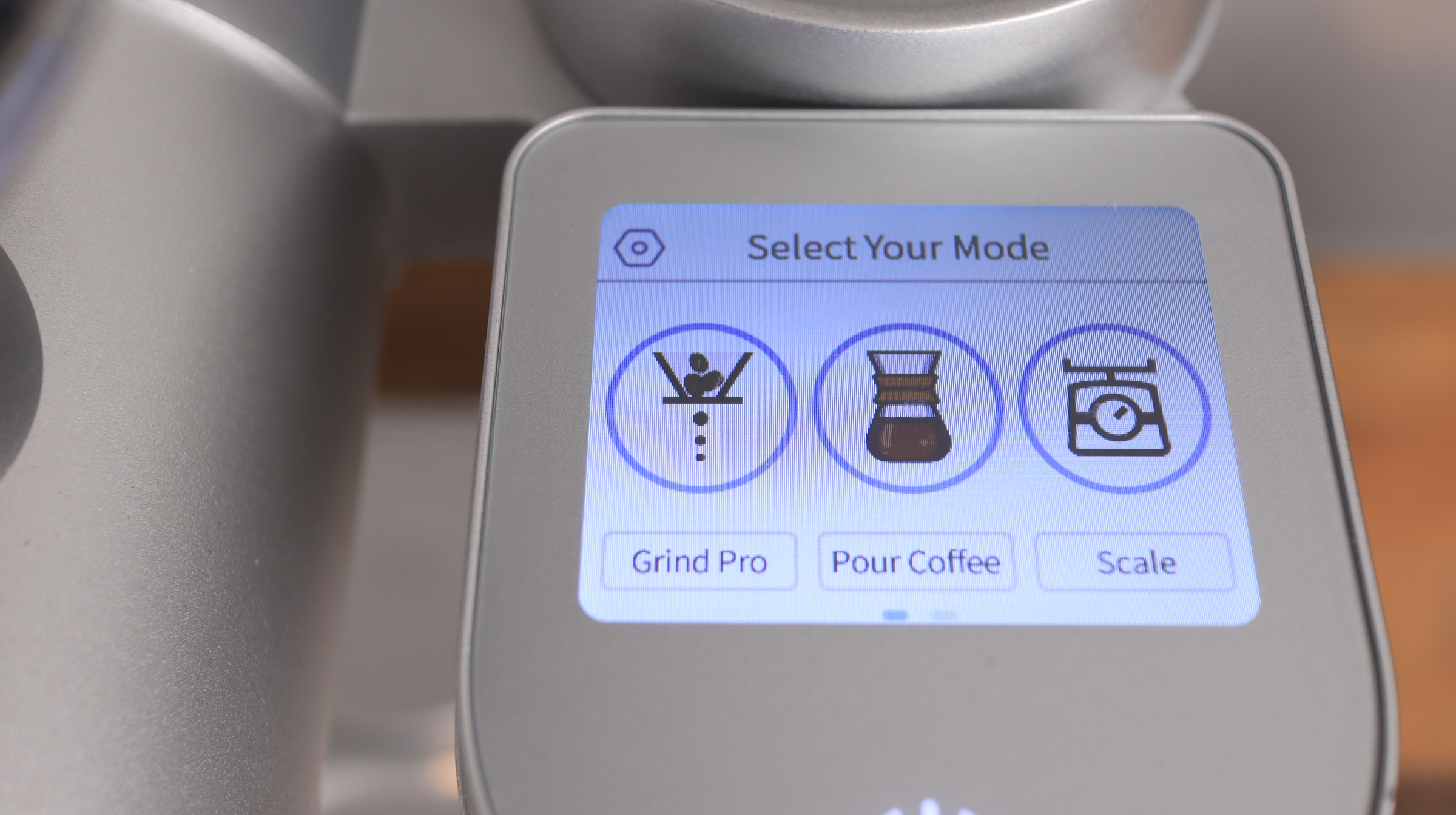 How it works: Creating a Coffee Recipe
What's unique about the Gevi? Well besides the spacey design, the 4 in 1 includes 4 rotating nozzles, which spin 360 degrees thoughout the brew process. They pour hot water in intervals, based on the recipe that you choose, or create yourself. You can choose the rotating speed of the nozzles, as well as the water flow in ml/second.
Example recipe: choose and weigh out 15 grams of beans. Grind the beans at your desired setting, directly into your filter lined dripper. Then, choose the water ratio and temperature. A good default is to choose a 1:15 bean to water ratio, and 95 degrees celsius. Then, choose the intervals you want, i.e. 60ml of water for the first pour, then wait 20 seconds to drain, another 60ml pour and 20 second wait, then pour the rest of the volume of water. This becomes more clear once you use the machine.
Performance: Pour Over Coffee
The cups from this machine are very clean, sweet, and can be complex, when using the right bean, and finding the right grind setting. The water does take some time to heat up however – somewhere between 1-2 minutes, depending on how much water is in the resevoir, and the current temperature of the kettle. From a technical standpoint, the machine has worked well for me, being extremely accurate in the water dispensed. So far, I have had no issues that weren't user error.
Being able to adjust the water flow, spin speed, and pouring intervals gives the user a ton of possibilities to experiment. Therefore, it is quite a joy to use, for the tinkerer. I plan to try lots more different roasts, and will report back with more findings.
What about the Grinder?
The Gevi 4 in 1 comes equipped with a capable grinder, boasting 60mm stainless steel burrs. The beans are fed to the burrs via an auger system, which remarkably also has very little retention – I noticed only about 0.1 to 0.3 grams of retention after seasoning the burrs. The grinder is also remarkably quiet, just slightly louder than my Eureka Specialita, which is praiseworthy.
Keep in mind however, that this grinder was designed mainly for pour over coffee – grinding fine enough for espresso will depend on your espresso machine. On my Gevi 4 in 1, on its finest grind setting, I cannot grind fine enough for espresso made with a conventional unpressurized basket, which I tried on my Lelit Grace. On the other hand, it can grind fine enough for espresso machines that include pressurized baskets, such as the Delonghi Dedica. All in all, I was very satisfied with the grinder for its performance, speed, quietness, and grind quality. You just might want to keep your espresso grinder handy if you plan to make espresso.
Specifications:
– Dimensions: 9.5″ x 7.32″ x 12.2″ and 16.9 pounds
– 1000 watt heating system
– 60 mm stainless steel flat burrs
– Temperature and water flow control
– 51 grind settings from french press to pressurized basket espresso
– Aluminum build, with anodized coating
– Included accessories: water carafe, stainless steel mesh dripper, food grade plastic dripper, V60 filters, dosing spoon and brush.
Suggestions
I think that Gevi designed a beautiful machine, that is capable of making a very nice, clean and complex cup of coffee. Due to its unique and modern look, it is both a conversation starter, and dare I say, a piece of art, sitting on the kitchen counter. If I can make some suggestions, it would be in the software. I would love to see them add the current scale weight to the main screen, so that you can always use it, regardless of mode. Additionally, for me it would be nice to have 1 button to grind, and 1 button to start a pre-made recipe. That would make the workflow super fast, once the machine has been dialed in for the user.
Competitors
This machine is really one of a kind so far, but the closest thing I can think of is the Moccamaster by Technivorm.
Find your Gevi 4 in 1 here:
YouTube