Ascaso Steel Duo PID Review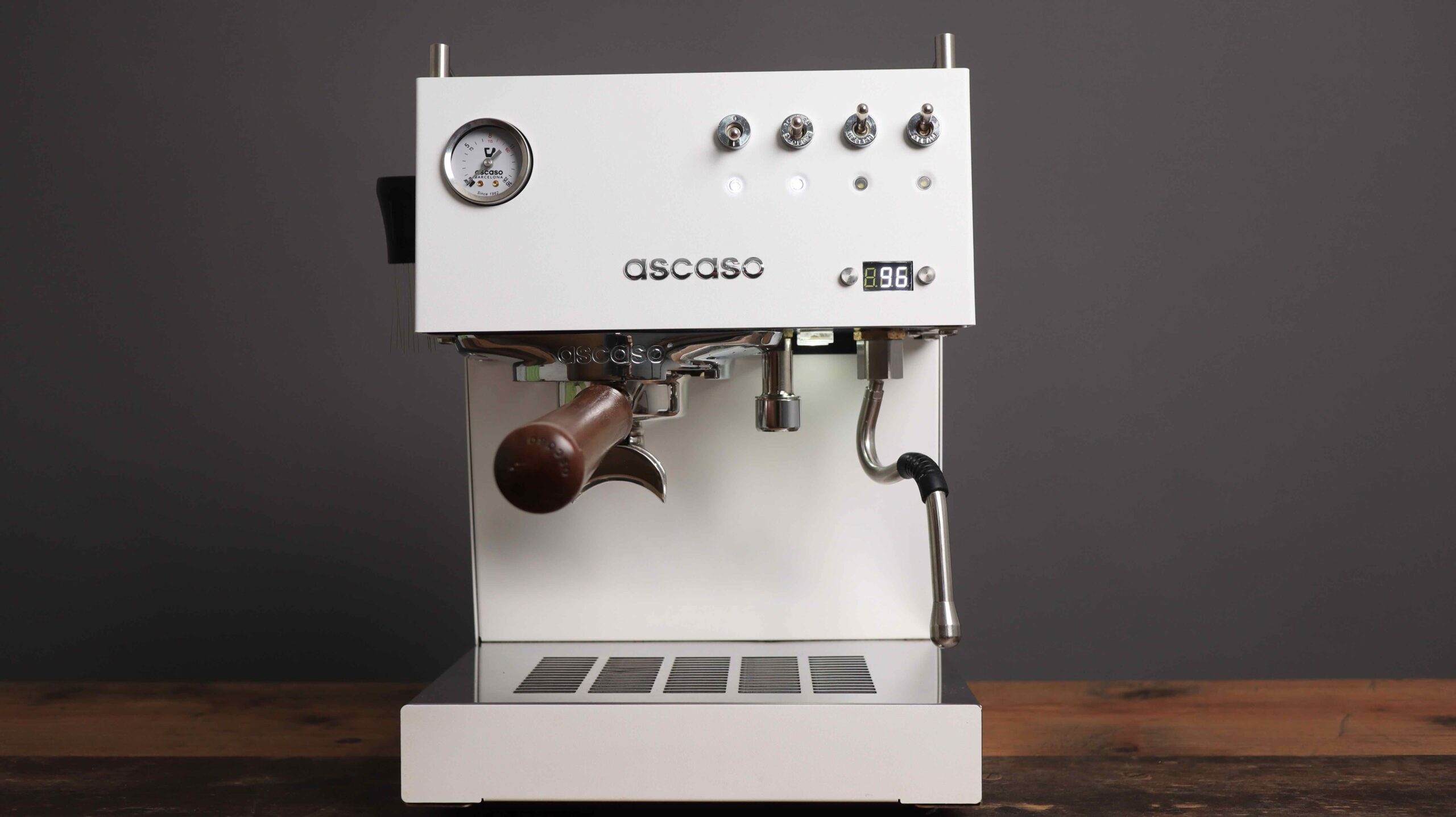 Have you ever heard of the spanish Brand, Ascaso? They have been making popular espresso machines in Europe for a while now, such as the Dream, the Baby, and now the Ascaso Steel Duo PID. Let us take a look at what makes the Duo PID special, and why this dual thermoblock machine is surrounded by so much hype.
The Looks of the Steel Duo PID
The Steel PID is a stately machine for a thermoblock based system. When most people think of a thermoblock driven machine, they think of dinky little espresso machines. Not this one. The Steel Duo PID uses high quality materials, and comes in weighing a whopping 15 kg! The model in review is in a handsome white painted steel color, which is decorated with shiny steel elements, such as the brew group, the water spout, the cup rack, the non-burn steam wand, and the drip tray cover. It is adorned with 4 flip style switches for power, volumetric brew, hot water, and steam mode.
Additionally, there is a 2 digit digital display for the current temperature (at the brew head), which has white digits. I really appreciate the white digits, as that fits with the rest of the aesthetic. Look to your upper left, and you will find an Ascaso branded manometer. In the middle of the front plate, as well as on the brew group itself, can be espied the ascaso logo.
Looking at the unit from the side, this Ascaso has a tilt to it. The cup rack tilts backwards, which is a little unusual. Even so, I always do appreciate the aesthetics of a vertical or in this case horizontal tilt, where it makes sense. In this application however, I am not so sure. The cups vibrate backwards, and make noise as they rattle during an extraction. More on that later.
The portafilter is heavy and chic, with a delightful wooded handle. It feels good in the hand, and with its dual spout is a pleasure to use. Just be sure that the machine is fully warmed up, in order for the portafilter to be at operating temperature as well (I recommend at least 30 minutes).
Let there be light! Something else I love about this machine, is that it includes 2 LED lights, in button form, so that you can see what the heck you're doing. I wish more machines included these, because they just make the machine easier and more fun to use, when you can see how to lock in the portafilter, and see how your espresso looks.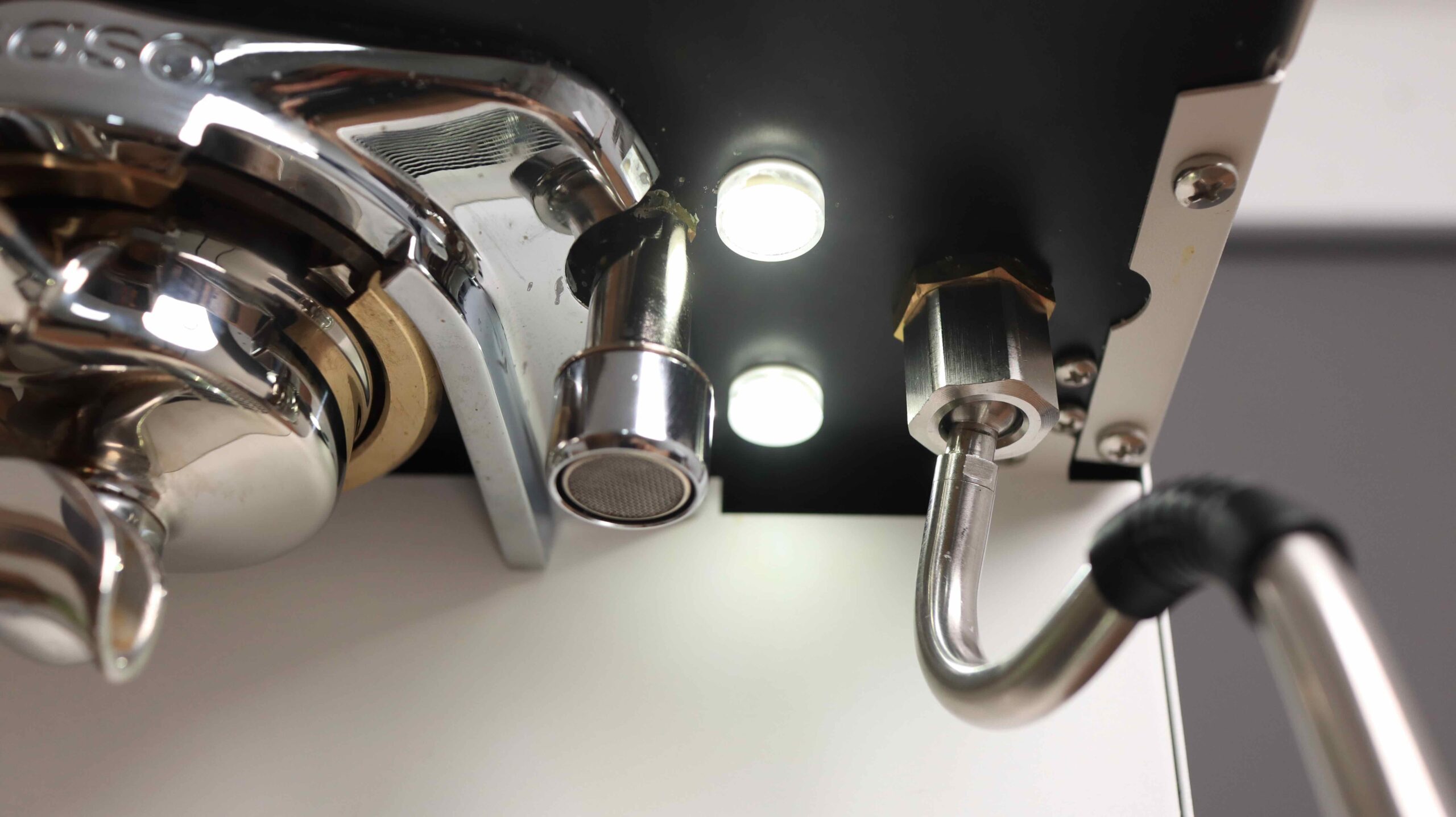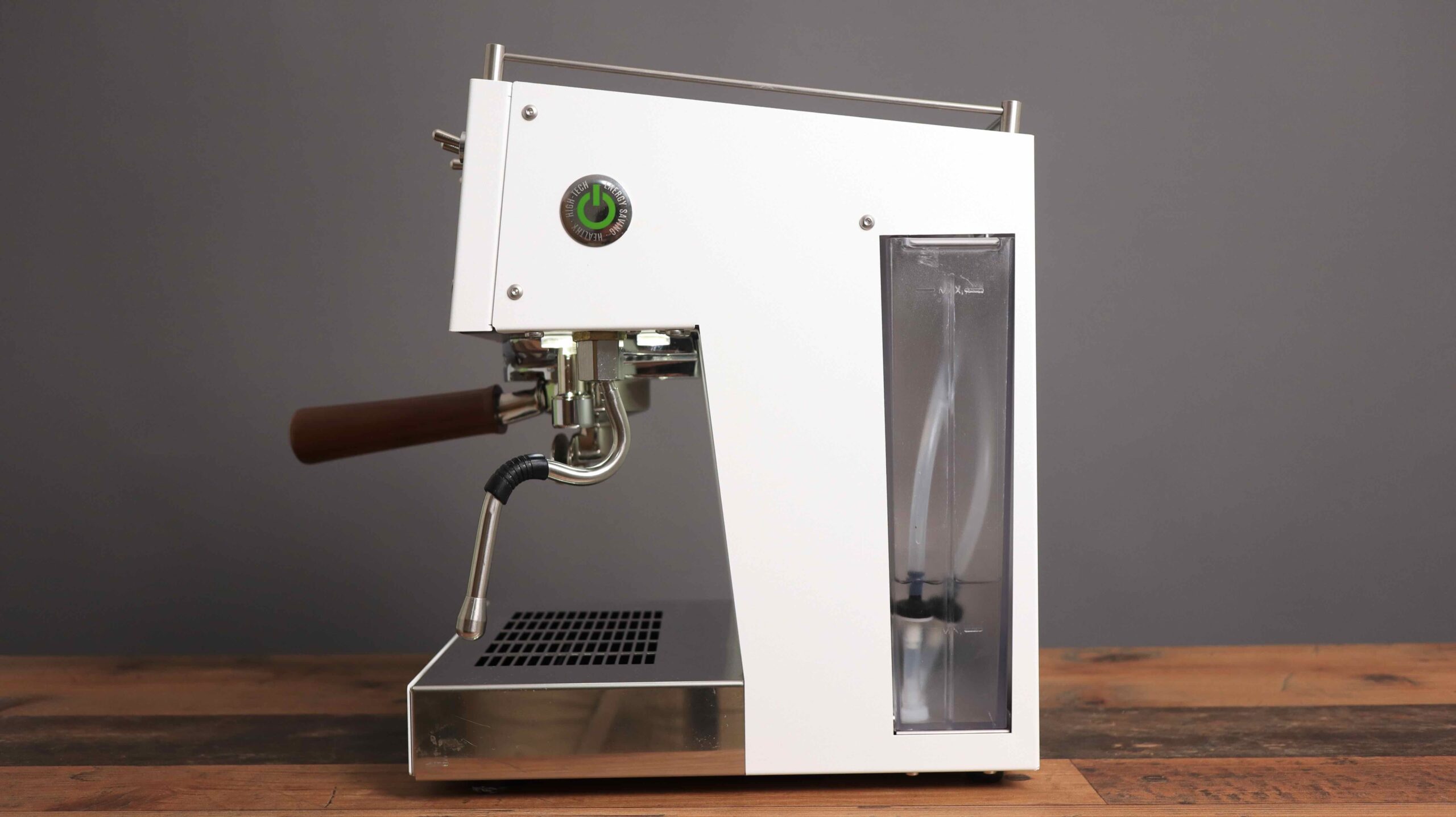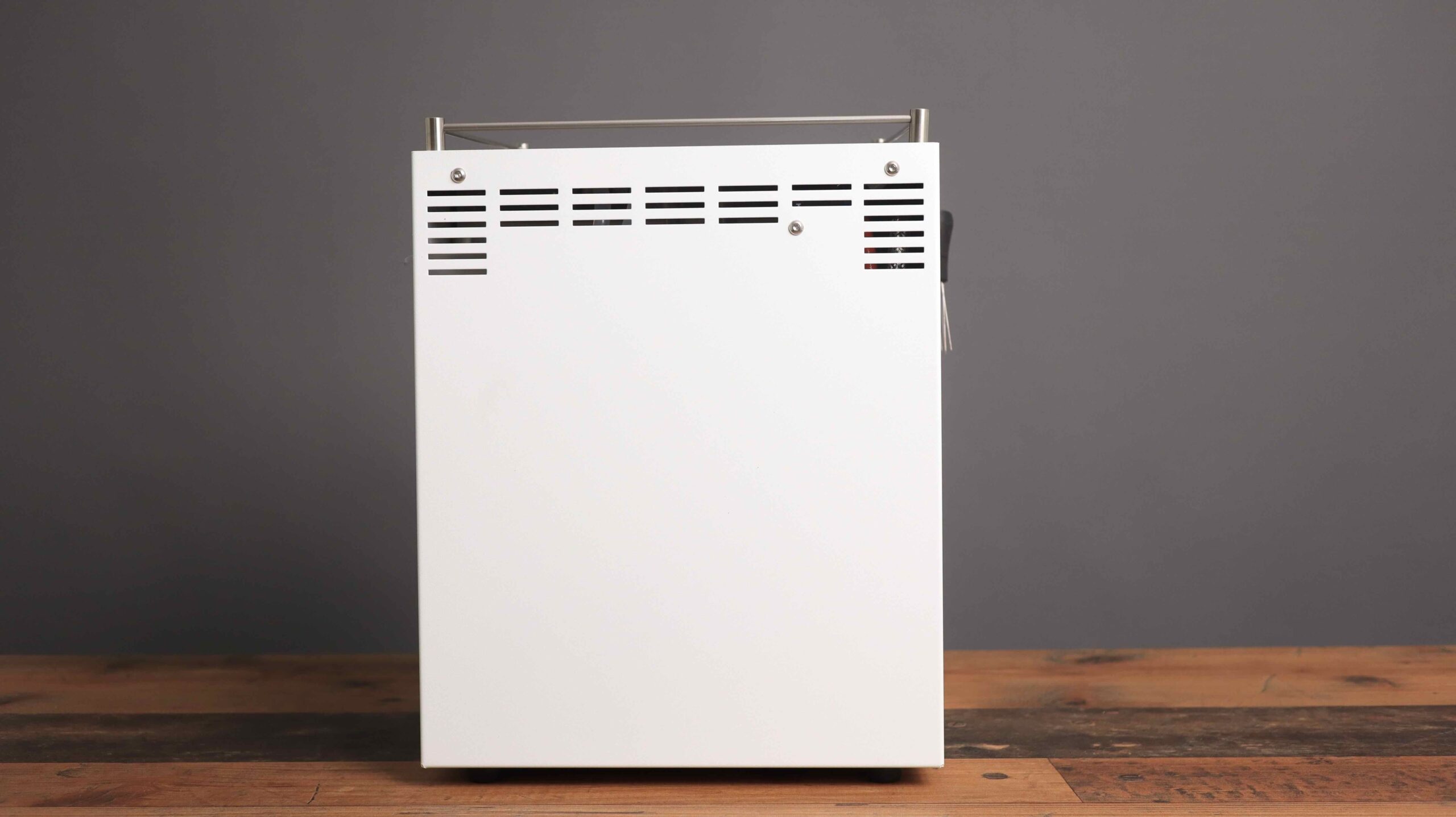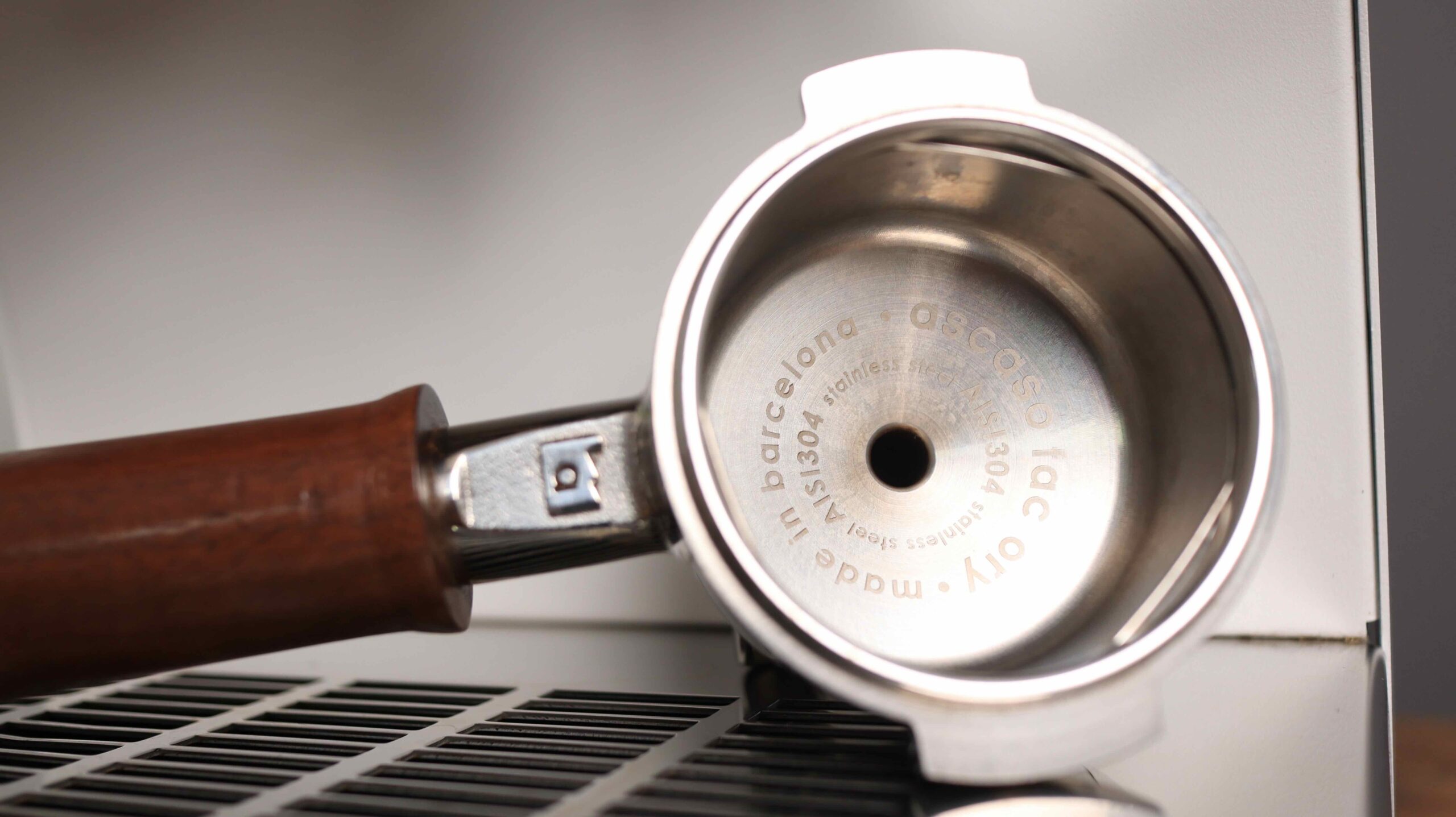 Specifications and Features
I believe this machine receives so much attention for all the features it offers. It includes an active cup warmer, which gets really hot. It contains two separate PID controlled thermoblocks, for stable espresso extractions, and accurate milk frothing. Perhaps most importantly, it measures the brew temperature at the brew unit itself, which is the right place to be measuring – not at the boiler or thermoblock, which will have a higher temperature. The Ascaso Steel Duo Pro also has the comfort featuer of a non-burn steam wand, that auto-purges. In addition, this machine is has volumetric dosing, which is awesome!
One final element to mention is the clever drip tray. It contains fins, so that waves of dirty water cannot be created when pulling out a full tray. Very nice!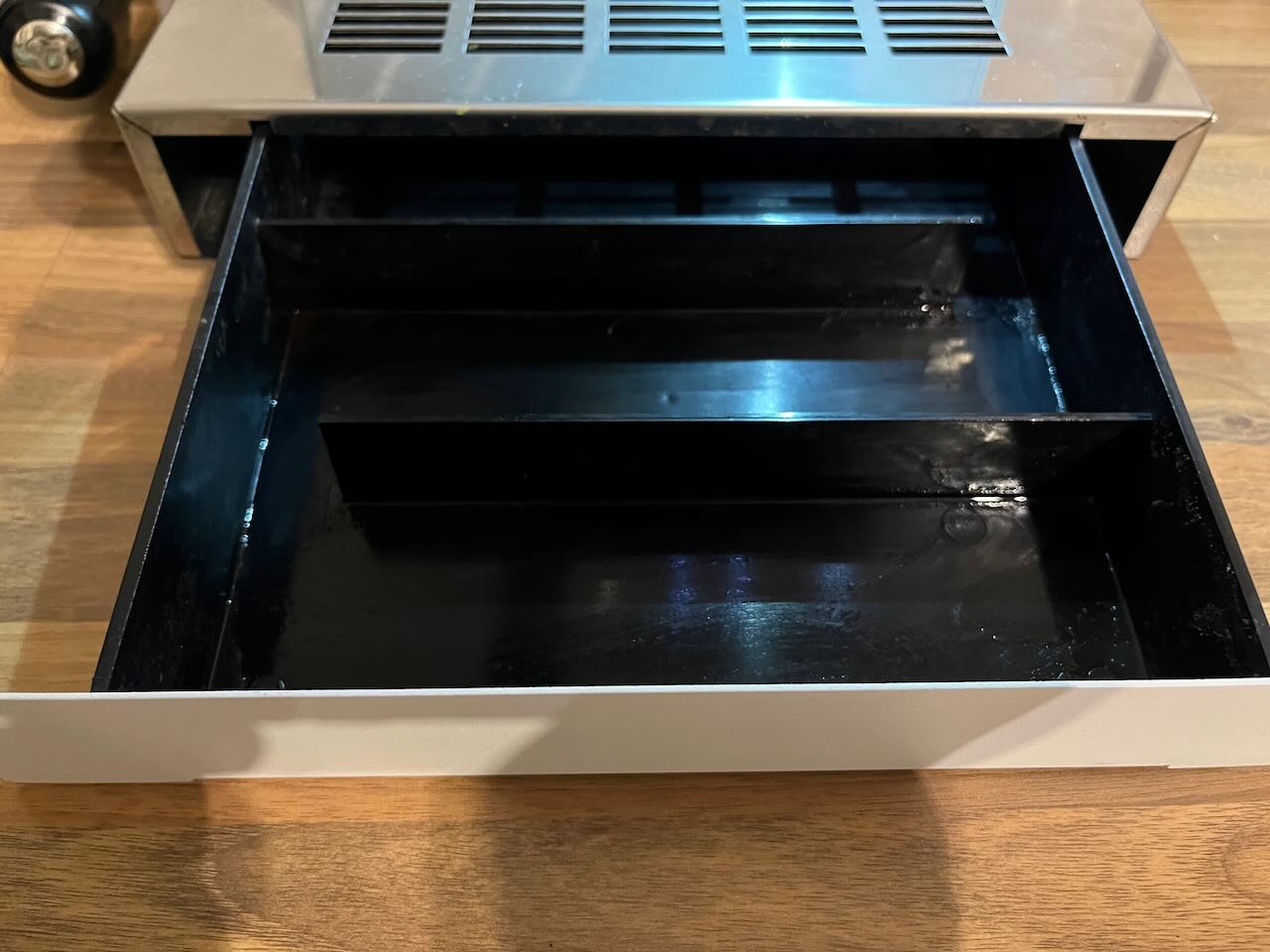 Thermocoil vs Thermojet vs Boiler
One thing to keep in mind is that this machine uses "thermocoils" which are to my understanding vastly superior to the "thermojets" used in cheaper machines. Just see the Decent DE1, which also uses thermocoils in their design. They are more temperature stable than their cheaper counterparts, but that comes at a price. Also, compared to a conventional boiler machine, they heat up much faster, are more energy efficient, and have unlimited use for steaming milk. Finally, since there is no water to sit and age in a boiler reservoir, the water stays fresher. If you are partial to Lelit however, they do offer the Elizabeth for right around €1k, although it has dual boilers, rather than dual thermoblocks.
Specifications:
– Dimensions: 270mm x 360mm x 315mm
– Two powerful LED lights
– 2068 Watt max power consumption
– 2 liter water reservoir
– Weight: 15 kg, or 33 pounds
– Stainless steel, non-burn steam wand with auto purge
– 58mm stainless steel portafilter
– Easily adjustable OPV (without opening machine)
– Active cup warmer
– Dual PID circuits
– Volumetric dosing
WAF – Wife Acceptance Factor
Of course, when spending $1,500-2,000, partner acceptance factor is very important. The machine has to perform flawlessly, and it has to look good. Ideally, it should also be on the quieter side, and it should offer great ergonomics. I am happy to say that in our household, this machine gets two thumbs up from my better half (mainly based on the good looks).
How good is the espresso and Steam Quality?
The Steel Duo PID does make excellent espresso. But not without a caveat. I find that although the thermoblocks warm up quickly, the portafilter does not. Therefore, I have my test unit set on a 30 minute timer before waking up. With the portafilter pre-heated, there are no barriers for making great, flowing, luscious espresso.
What sets this machine apart from others are the easy manipulation of variables. The PID temp at the brew group is adjustable from the main menu, and the pressure can be adjusted using a set screw on the bottom front of the machine. Excellent! Want to adjust the pre-infusion? No problem! The pre-infusion can be adjusted from 0 to 5 seconds from the settings menu.
I would say the only variable this machine lacks is the ability to adjust pressure on the fly, with flow control, like with a lever machine, or Lelit Bianca.
The advantage of a dual boiler or dual thermoblock machine is that you can make espresso and steam at the same time of course. The Ascaso is more than capable of doing that, but if I have one gripe regarding the machine, it is the steam wand tip and pressure. The steam wand of the Steel Duo PID is wide, as it is non-burn, and it has a bulbous tip. I do find such bulbous tips harder to steam with. In addition, the steam pressure is similar to cheaper machines like the Dedica or Gaggia Classic Pro, taking about 40-45 seconds to steam 200ml of milk.
YouTube
Products (Affiliate-Programme)